MEDICA 2005 (Germany)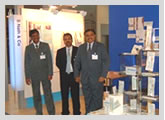 S. Nath & Co. is participating in MEDICA 2005
Hall #6 Stall B/51 at Dusseldorf, Germany from 16 - 19nt November, 2005.

We had participated in MEDICA 2003 Hall # 6 Stall B/57 at Dusseldorf, Germany from
19 - 22nd Nov., 2003.

The MEDICA Exhibition is one of the biggest International Tradefair for medical devices. You may visit www.3.medica.de for more information.
EXPRO - 45
S. Nath & Co has participated in EXPRO - 45 semianr organised by CBI at Rotterdam, The Netherlands.

This Exclusive Seminar was organised by CBI (Center for the Promotion of Imports from Developing Countries) for Export promotion in Europe.