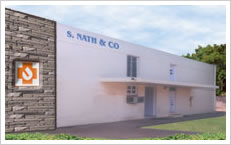 S.Nath & Co. is an ISO 9001:2008 and CE certifed innovative Company having ultra-modern plant and machinery for manufacturing Medical Devices since 1980. S.Nath & Co. has state-of-the art technology for the Assembly of disposable plastic components and tubing for Medical devices manufacturing. The Company is engaged in manufacturing the entire range of Medical Devices for Infusion Therapy, Transfusion, Gastroenterology, Urology, Anaesthesia and Surgery.
Major products are Infusion Sets (I.V. Sets), Blood Administration Sets, Scalp Vain Sets, Blood Collection Sets, Paediatric Sets, Infant Feeding Tubes, Suction Catheters, Urine Bags, Cord Clamps etc. The products of the Company enjoy good market response in India as well as overseas. Substantial portion of production of the Company is regularly exported to developing nations all over the world.
MISSION
To become a symbol of Perfection, Commitment and Customer Satisfaction.
QUALITY POLICY
We are committed to provide medical devices on global level and shall continually improve Quality Management System. We shall strive for total customer satisfaction.
OBJECTIVES
Playing on effective team building principles for optimal utilization of key resources like man-power, technology & material.
Strive for consistent, competitive quality improvement through manufacturing practices as per the norms of Good Manufacturing Practices (G.M.P.).
To achieve and sustain a reputation for quality in the national and international markets for our products in the most cost effective way.
MANAGEMENT
S.Nath & Co. is managed by Promoters having more than 30 years experience in the medical device industry. In addition, the Company employs qualified professionals in the key functions of Production, Quality Assurance, Marketing and Administration. The Company has well documented system to ensure smooth functioning of all departments.
HUMAN RESOURCES
It is our constant endeavor to develop human resource to inculcate a sense of commitment and dedication to the organization. There is a lot of emphasis on training in our organization. For effective will and direction of human resources towards customer satisfaction, relevant training of Company's manpower at all levels is aimed at to impart requisite competence and enthusiasm. Sustained training transforms the skill and will of company's human resources into a competent dedicated work force; thus paving the way for Total Quality Management.